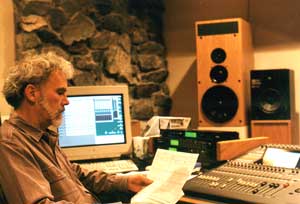 more about Bill McElroy, Soundsmith
Full Service
Mastering & Editing
For Mastering and editing tasks, Slipped DISC features Sonic Studio, USP 16/32 from Sonic Solutions, with accuracy to 24-bit, one of the finest high-powered digital editing and mastering system available. Editing of up to 32 panels may be mixed or output through 16 simultaneous channels, with EQ, Dynamics and automated mixing available. Mastering sources may be CD, DAT, 24bit DAT or Analog Tape.
Mastering: The Last Stand or Final Frontier?
In the early days of direct-to-disc recording, mastering was such an integral part of the recording process that it was not recognized with a separate name. With the advent of magnetic tape and, importantly, the ability to edit, material recorded at different times could be placed together on master reels, and sent off for mastering at a record plant. This process was typically a black-box engineering process to get the audio from the master tape onto the master lacquer disc for vinyl record production. A good mastering engineer was the person who could make the record sound as good as the tape. Mastering was considered a technical, rather than an artistic process, somewhat similar to the chemical plating processes used to make record stampers from the master lacquers.
As phonographs progressed from record players to stereos to entertainment centers, and as listeners became audiophiles, the need to balance songs against each other and make even more final touches grew. Producers, artists and engineers, not wanting to endure the sound degradation of an additional tape generations, found that mastering was yet one more place that sound could be altered, manipulated and shaped while the transfer to lacquer was taking place. Thus, mastering came into its own as an art form. Though vinyl is no longer the mainstream media of choice, mastering is, today, considered to be an important step in the artistic presentation of any project.
Electronic evolution has made it possible to make digital transfers or copies with apparently no degradation. These final "tweaks" can be made to a new master file, tape or disc. No longer do changes have to be made "on the fly" while the master is being created. It is possible, however, to abuse this newfound freedom. The old phrase "we'll fix it in the mix" has been digitally re-mastered and re-released as "we'll fix it when we master". Although much can be done to enhance a mixed piece of music, the best time to raise or lower the vocal level or a harmony part or that searing sax solo, is still back at the mixing session.
So, if mixing is the process of bringing all the elements of a song together, then one can view mastering as bringing all the songs together. This is the easiest and simplest place to: change the order of the songs, change the spacing between the songs, put two or more pieces together to have the songs "crossfade" from one to another, and to make those final tonal or dynamic changes in the sound of each song. All of these factors fit together to make the final product sound like "a commercially available product".