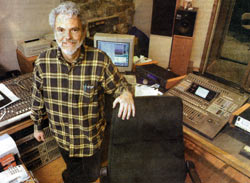 News & Info
click here for a list of current projects
Hanover County Herald Progress
Mary Tompkins, Feb 9, 2004
Sound Struck
Ashland's Slipped Disc studio a result of lifelong listening. Bill McElroy used to go out to the railroad tracks to catch and record the sound of passing steam locomotives.
"I've always been so interested in sound," he said.
In high school, he and a friend from gym class would marvel over hi-fis and would dream of making their favorite records sound better.
"We were audio-visual nerds," McElroy said of the duo.
They followed a friend's band around, testing their skills by trying live recordings.
"We made some really bad tapes, but we always learned something," McElroy said. "We kept refining it until eventually we got to the point where someone paid us to do it."
It's a career
McElroy turned his passion for sound into a lifetime career. A recording engineer since 1971, McElroy runs Slipped Disc, a mastering suite and recording studio on England Street next to the Ashland Theater. Since July 2002, when he opened the Ashland business, McElroy has been recording, editing and mastering albums for local bands. That means he records voice and instruments, blends the sounds together and then chooses how the songs will be ordered on the album - all in one studio.
"This is a service company, so it has some of the aspects of being a plumber," he said. "But there's so much art involved."
Making sure his own artistic contributions match what the band is looking for is sometimes the hardest part, McElroy said.
"Some people have a different concept of the way they want something to sound," he said. "In the end I like to do what they want because I want them happy with what they've done."
McElroy has worked with The Taters, regulars at Ashland Coffee & Tea, and bluegrass sensation The Seldom Scene. Before construction was complete at his England Street studio, McElroy helped the Richmond-based blues band Li'l Ronnie and the Grand Dukes record their album in the Ashland Theater.
"I'm sort of a part of the band when we do this," he said. "I'm there to help the band to make an album sound good."
Whether working with inexperienced basement bands or seasoned, award-winning professionals, McElroy sticks to local talent. But some bands come from as far away as North Carolina, West Virginia and Maryland for his services. McElroy concedes the Richmond area's music scene is no Los Angles, Nashville or New York.
"But that's the way I like it," he said.

While McElroy deals mostly with folk, jazz and bluegrass, he has also dabbled in rock and roll and classical music as well.
"Part of what attracts me to the business is getting to work with different types of music," he said. "But my reputation has been mostly in the area of acoustic music."
He has spent more than 30 years building that reputation. After his days in the high school audio-visual club, McElroy jumped into the music business building and installing sound equipment for a company in the Washington, D.C. area. He spent two years repairing radios for the U.S. army and then went to work for Edgewood Recording in D.C. About a year later, he founded his own business, Bias Recording Company, Inc. with his high school friend, Bob Dawson. They'd record albums in their rented house in Bethesda, MD. Bands would play in the living room and dining room, while cables ran through the house to the sound equipment in the basement. Eventually Bias Recording outgrew that house and moved into a real studio. There, under McElroy's leadership, Bias produced many Grammy award winners, several "Gold" albums, one "Double Platinum" album, and won the Washington Area Music Association's Best Studio Award three times.
"Bias ended up being a huge success," McElroy said.
In 1995, McElroy followed his ex-wife and son to Richmond, where he opened Slipped Disc. He said moving to the Richmond area from D.C. was a tough transition.
"Nobody in Richmond really knew who I was," he said. "I had to struggle a little to build up business."
But once McElroy landed a few clients, word of his work spread through the local music community.
"Someone comes in here and likes how it sounds, and they tell some of their musician friends," he said. "That's just how it works."
And now, McElroy says his one-man operation can't always accommodate the demand for service.

"I hate that people end up going elsewhere because I just won't be able to get it done on time," he said. "But part of what I like about this business is that if I need some time off, I can take it."